ABOUT
With the increasing demand for Cloud Computing jobs and the rising need for focused learning towards Cloud Computing, ICT Academy in collaboration with AWS Educate is organizing a State wise Faculty Enrichment Program to teach faculty on Cloud fundamentals. It's a one-day program for educators that will provide the training and resources to accelerate cloud-related learning.
On successful completion of the program, each participating faculty should organize Cloud Literacy Day in their respective institution to motivate and train students on Cloud Fundamentals.
Duration
1 Day
( 8 Hours)
Target Audience
Faculty members of Engineering,
Arts & Science institutions
Training Locations
Tamil Nadu, Karnataka, Andhra Pradesh, Telangana, Delhi NCR, Maharashtra
ABOUT AWS EDUCATE
AWS Educate Program
The AWS Educate program ("AWS Educate") is Amazon's global initiative to provide students and educators with the resources needed to greatly accelerate cloud-related learning and to help power the workforce of tomorrow. The program offers a robust set of no-cost tools, resources, and AWS Promotional Credits for students and educators to skill up on the cloud.
Student receive several benefits upon approval into AWS Educate:
AWS Promotional Credits to explore AWS tools and service
Specialized content and hands-on activities designed to get students comfortable with the basic of cloud computing
Access to 12 Cloud Career Pathways covering in-demand topics such as machine learning, cybersecurity, and software development, each with 30+ hours of content
Ability to earn AWS badges for different competencies such as IoT, gaming, and Alexa skills
The AWS Educate job board with job and internship opportunities from Amazon and other companies in the AWS Partner network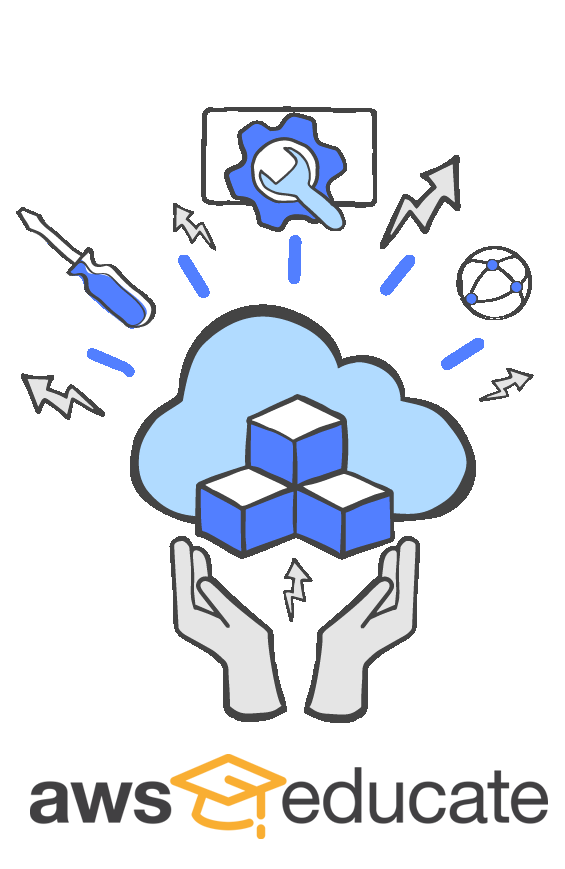 PROCESS
Process to Join Cloud Masters 2019
2
Participating faculty members must enroll in AWS Educate for attending the Faculty Enrichment Program
3
Register for the Faculty Enrichment program with ICT Academy
4
After completing the Faculty Enrichment Program, faculty members should help their students enroll in AWS Educate at www.awseducate.com
5
Cloud Masters who got trained through Faculty enrichment programme should conduct a one Day Cloud Literacy Day 2019 during the month of August 2019.
6
Showcase their respective Institution as
a forerunner in this initiative of ICT Academy
RECOGNITIONS
1
Campus Impact Award
Will be issued to
Institutions based on the following Criteria
Must have nominated faculty for Faculty Enrichment Programme
Faculties and Students Enrolled in AWS Educate
Encouraging faculties and Students in Completing 1 Cloud Learning Pathway (Cloud Literacy or Cloud 101)
Top 5 Institutions will be recognized with "Campus Impact Award" based on the Number of Students Enrolled and Completing Learning pathway.
2
Certificate of Appreciation
Will be provided
to faculty members based on the following Criteria.
Must have attended the Faculty Enrichment Program
Should have completed learning of one pathway (Cloud 101)
Motivate and guide students and faculties
Support in enrolling Minimum 500 Students for AWS Educate
Guiding Minimum 500 Students in Completing 1 Cloud Learning Pathway (Cloud Literacy or Cloud 101)
IMPORTANT DATES
Institutional Membership
01 July to 30 Sep 2019
Faculty Registrations
01 July to 30 Sep 2019
Faculty Enrichment Programs
01 March to 30 Sep 2019
Faculty Learning Month
01 March to 30 Sep 2019
Students Registration Month
01 Sep to 30 Sep 2019
Cloud Masters – 2019
01 Sep 2019 to 31 Oct 2019
REGISTRATION
Faculty Enrichment Programs - Registration
To be updated
PAST
Faculty Enrichment Programs - Registration
| S.No | Date | Venue | Region |
| --- | --- | --- | --- |
| 1 | 25 Mar 2019 | St. Joseph's Institute of Technology, Sholinganallur | Chennai |
| 2 | 25 Mar 2019 | KIT-Kalaignar Karunanidhi Institute of Technology, Coimbatore | Coimbatore |
| 3 | 25 Mar 2019 | AAA College of Engineering and Technology, Viruthunagar | Tirunelveli |
| 4 | 26 Mar 2019 | Velammal College of Engineering and Technology, Madurai | Madurai |
| 5 | 26 Mar 2019 | KSR College of Engineering, Tiruchengode | Salem |
| 6 | 27 Mar 2019 | Dhanalakshmi Srinivasan College of Engineering | Perambalur |
| 7 | 17 May 2019 | KLN College of Engineering | Madurai |