About Cloud Literacy Month 2019
Global cloud services market is expected to reach $555 billion by 2020. It is imperative for students to learn the cloud technology skills to make them on par with industry standards. To enable students to learn cloud technology skills, ICT Academy in association with AWS Educate is conducting Cloud Literacy Month 2019 aiming at making its member institutions to organize a day long CLOUD LITERACY DAY within their institution during the month of September 2019. Cloud Literacy Day is intended to induce self-learning and introduce basic cloud technology skills to all students. The program is organised exclusively for all member institutions of ICT Academy across India, where the students learn the modules online through self-instructed videos and exercises and prove their cloud learning skills. By successfully completing the course, they will earn their first AWS Inventor Badge & AWS 101 Introduction to Cloud Computing.
Learning Type
Online Self Based
Who Can Participate
1st Year and 2nd Year Students of ICT Academy Member Institutions across India.
Institutional Level Awards and Recognitions
For Student
AWS Inventor / AWS 101 Badge
(On Successful completion of learning modules of Fundamental Cloud Skills)
&nbsp
For Coordinator
Cloud Champion Award
(On Encouraging 200 Students Complete AWS Inventor/AWS 101 Badge)
&nbsp
For Instittion
Cloud Literate Campus Award
(On Successful hosting of Cloud Literacy day and with minimum 200 students completing Learning on AWS Inventor/AWS 101 Badge)
State Level & National Level Awards and Recognitions
This program is open to member institutions of ICT Academy in the states of Tamil Nadu, Karnataka, Andhra Pradesh, Maharashtra, Telengana, Puducherry, Delhi, Uttar Pradesh, Harayana, Uttarkhand, Arunachal Pradesh, Assam, Manipur, Meghalaya, Mizoram, Nagaland, Sikkim, Tripura,Westbengal,Rajasthan,Gujarat.
State Level
State Cloud Champion
(Top 3 Institutions and co-ordinators will receive awards and certificates.)
National Level
National Cloud Champion
(The Top 5 Institutions and Coordinators will receive awards & Certificates)
Process & Registration
The registration is open to all ICT Academy members across India who can host the CLOUD LTERACY DAY during the month of November and December 2019 in its campus.
Registration of students is open till 30th Nov 2019
Member Institution Registration


with SPOC(Program Coordinator) Nomination
Submit the date


to host "Cloud Literacy Day" at your campus
Promote Cloud Literacy Day


amoung the students within your students
Enroll students


to participate in "Cloud Literacy Day"
Allocate lab facilities


with high speed internet connection for the participating students
Organise "Cloud Literacy Day"


in your campus on the date submitted
Submit Completion Reports


in the given format
Recieve Awards & Recognitions
Learn Fundamental Cloud Skills and Earn your Digital Badge
No matter your skill level, AWS Educate will help you learn the essentials you need in today's cloud enabled world.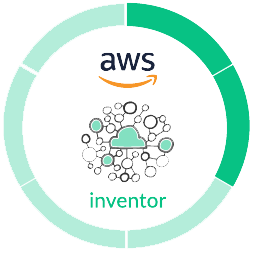 Digital Badge - AWS Inventor
Badge Description
This introductory self learning course explores how computers work and Internet infrastructure, cloud computing models and AWS fundamentals. Throughout the course, students will expand their knowledge of cloud computing through narrative-based scenarios and short interactive tasks. Students will also survey cloud careers and discuss industry demand for cloud skills.
Badge criteria
Complete and pass the Fundamental Cloud Skills on the Cloud Literacy Day at your campus.
Course Objectives:
Explain the evolution of the internet.
Describe the cloud computing model.
Describe examples of infrastructure as a service.
Describe examples of platform as a service.
Describe examples of software as a service.
Evaluate and assess the benefits of cloud computing and cloud applications.
Discuss industry demand for cloud skills.
Understand the social impacts of computing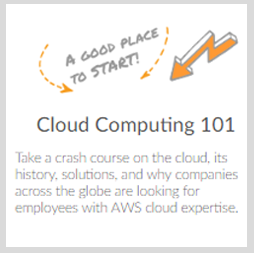 Cloud Computing 101
Learning path description
The cloud is a part of everyday life. For companies everywhere, it's become an ideal solution for their technology needs. With its ability to scale, on-demand solutions, and flexible pricing, companies can focus on bringing their ideas to life rather than buying and managing servers. In this pathway, which contains ~25 hours of learning, you will be introduced to the basics of cloud computing and the AWS solutions.
Badge criteria
Upon successfully completion of AWS Cloud 101 Learning Path
Course Objectives
In this pathway, you'll explore
Cloud Computing Fundamentals
AWS Cloud Computing Services
Course Outline
Module 1: Platform technologies
Cloud Computing Fundamentals
Knowledge Check
Module 2: AWS cloud computing Services
AWS Cloud Computing Services Introduction
Overview
AWS Compute Services
AWS Analytics Services
AWS Database Services
AWS Developer Tools
AWS Management Tools
AWS Storage Services
AWS Networking and Content Delivery Services
Knowledge Check
Promotion
Download these files, add your institution logos and dates to promote Cloud Literacy Day within your campus.
Result
State Cloud Champions
S.No
State
Institution Name
1.
Andhra Pradesh
Swarnandhra College of Engineering and Technology
2.
Delhi
Noida Institute of Engineering and Technology, Greater Noida
3.
Meerut Institute of Engineering & Technology, Meerut
4.
Karnataka
KLE Society's College of BCA, RLS Institute
5.
KLE Society's Degree College, Nagarabhavi, Bangalore
6.
Tamil Nadu
Sri Krishna College of Engineering & Technology, Coimbatore
7.
Rajalakshmi Engineering College
8.
Sri Chandrasekharendra Saraswathi Viswa Maha Vidyalaya
Cloud Champion Award | Cloud Literate Campus Award
S.No
State
Institution Name
1.
Andhra Pradesh
Swarnandhra College of Engineering and Technology
2.
Delhi
Noida Institute of Engineering and Technology, Greater Noida
3.
Meerut Institute of Engineering & Technology, Meerut
4.
Karnataka
KLE Society's College of BCA, RLS Institute
5.
KLE Society's Degree College, Nagarabhavi, Bangalore
6.
Tamil Nadu
Sri Krishna College of Engineering & Technology, Coimbatore
7.
Rajalakshmi Engineering College
8.
Sri Chandrasekharendra Saraswathi Viswa Maha Vidyalaya
9.
Dr. Mahalingam College of Engineering & Technology
10.
Lady Doak College
11.
KG College of Arts & Science
12.
Sri Kanyaka Parameswari Arts & Science College for Women
13.
Velalar College of Engineering and Technology
14.
Chevalier T.Thomas Elizabeth College For Women
National Cloud Champions
S.No
State
Institution Name
1.
Karnataka
KLE Society's College of BCA, RLS Institute
2.
KLE Society's Degree College, Nagarabhavi, Bangalore
3.
Tamil Nadu
Sri Krishna College of Engineering & Technology, Coimbatore
4.
Rajalakshmi Engineering College
5.
Sri Chandrasekharendra Saraswathi Viswa Maha Vidyalaya